Hottie of the week
Thursday, October 13, 2005
...
Michael Owen
!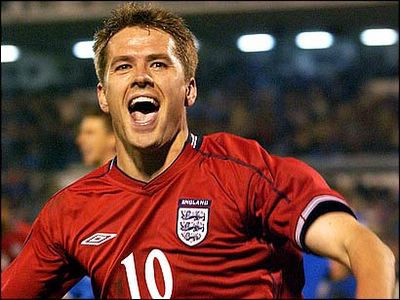 Ok, he's hot, he's young and he's a super athlete. He made his professinal soccer debut in England when he was 17 years old. He went in for an ailing player and scored a fucking goal. HA! He then became European Footballer of the Year in 2001. Wow! A real prodigy! Now that's hot.

I first saw him during the 1998 World Cup. Yum. He looked so boyish, so cute, so harmless, what was not to love? And then I saw him move. Wow. Nice legs. Wow. Fast boy. Wow. Nice legs. Anyways, he won me from the start. How could you say no to a face like that? Seriously! He has the most beautiful eyes. And hot legs. Even though he doesn't have like a super spectacular upper body, he sure seems pretty flexible, haha.

He used to have this good-boy haircut, and then he changed to this ultra-sexy shaved look. Oh my. Sadly, he married some girl in June of this year... but hey, I'd totally do a married guy, hello! And here's a tidbit of gossip: he had his first child with this woman in May of 2003. We can all do the math, right? How scandalous! What a hunk of a man! Be still my heart!