Before the virus takes hold
Sunday, May 13, 2007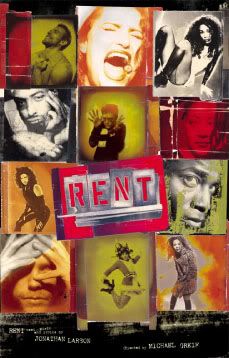 Yes, that's a lyric sung by Roger, an aspiring songwriter and one of the main characters of
Rent
. I saw the show last Friday at the Paramount theater and I almost thought that my friends and I had arrived at the wrong venue. The cheers and screams from the audience after almost every number and for some of the unknown actor's entrances made me feel like I was in some sort of rock concert. I'm serious, the crowd was incredibly enthusiastic (for a musical at least, haha).
Contrary to popular belief, I had never seen Rent before. Not even the movie. I know, what a lousy gay man. I own the original cast CD and have listened to it way too many times. But I had yet to be a true Rent-head. And bot did I ever become one. The show is just unforgettable in its energy and meaning, every song is a fantastic melody and inspired lyric-fest (ok, maybe 90%, but that's still really high).
Some moments were so emotional they moved me to tears (yes, even after all these years). The scenes involving the AIDS support groups and the death's of some of the main characters just drove me over the edge. I hadn't fell like crying so hard in a theater since I saw "Wit" back in MTY. Rent is an amazing show, it represents the wonders and horrors of a generation, some of which are no longer here to look back. It's both incredibly meaningful and entertaining, much more so than La Boheme could ever be (the opera it's based on).
I actually went to get my first HIV test in 2 years the day after I saw the show. It came back negative, thank God. I know I only slept with 4 guys since my last test, and it had always been safe sex, but still, it was a little nerve-wracking. I think that's why this show resonates so much with me. Having had more than my fair share of AIDS scares so far, I'm always very keenly aware that I could have wound up a statistic, another silent victim. Seeing the characters in Rent face up to destinies much bleaker than any I could have faced, and still have the will and genuine joy to live... it just amazes me. I love having the sense that I've witnessed an important work. And I hope other get the same chance.
Viva la vie boheme
.